February 23, 2018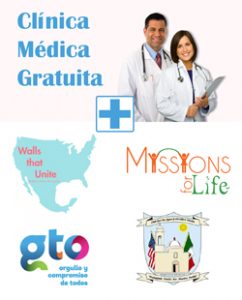 Download Flyer
Walls that Unite is partnering with Missions for Life, the state of Guanajuato and CODAYNU to bring a free medical clinic to Ojos de Agua. General checkups, arts and crafts!
Chequeo general de salud para la familia
Dia: Sábado 24 de Marzo
Hora: De 10 a.m. a 2:30 p.m.
Lugar: Centro de Impulso
Para reservar su lugar, regístrase en el Centro de Impulso antes del 15 de Marzo.
Arte y Manualidades
Dia: Viernes 23 de Marzo
Hora: 3:30 p.m. a 5:30 p.m.
Lugar: Centro de Impulso